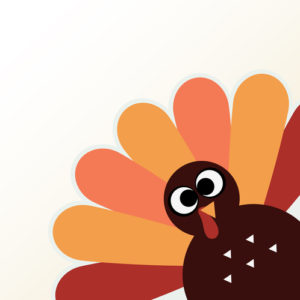 These days, we celebrate Thanksgiving every late November, but the origins of the American holiday actually go back before the U.S. was even a country. In fact, there are claims of 12 different Thanksgivings in the Americas, including one in 1541, when explorer Francisco Vasquez de Coronado and his followers held a Thanksgiving celebration in Palo Duro Canyon in modern-day Texas.
That Thanksgiving was hosted by the Pilgrims in 1621 and was thought to be some time between September 21 and November 1. Before the hard winter hit, 50 pilgrims and 90 Wampanoag Indians celebrated being thankful for three days, feasting on shellfish, boiled pumpkin, deer, berries – and wild turkeys.
However, don't know why the turkey became the symbol of Thanksgiving instead of the other plentiful wild game that was served (imagine if we ate Thanksgiving deer?!).
Where did turkeys get their name? When Columbus first landed in the Americas, he mistakenly thought that his ship had reached the shores of India, and the wild turkeys they saw were actually a species of peacock. So Colombus named them "tuka," which is "peacock" in the Tamil language of India, and eventually that evolved into "turkey."
We now think of Thanksgiving as the quintessential American holiday, but that wasn't always the case. In fact, Thomas Jefferson called the idea of a federal holiday called Thanksgiving, "the most ridiculous thing ever conceived."
But it was the progressive Abraham Lincoln in 1863 who proclaimed Thanksgiving a national holiday.
A writer and editor named Sara Hale is considered the "Mother of Thanksgiving," as she was the one who persistently lobbied President Lincoln to name a national day of thanks as an official holiday. She thought a Thanksgiving Day would unite the country amid turmoil about social and industrial changes.
Speaking of turkeys and Presidents (that sounds like the start of a good joke,) Ben Franklin wanted the turkey, not the eagle, to be our national bird. Franklin wrote in a letter to his daughter that the eagle had "bad moral character," and that the turkey was a "much more respectable bird."
And a strange Presidential tradition exists in which two turkeys are "pardoned" from Thanksgiving every year, sparing them from the dinner table. This tradition started when Abraham Lincoln pardoned his son's pet turkey, and every U.S. President does the same since 1947.
The holiday was first celebrated the last Thursday of November or even the second-to-last Thursday. But in 1941, President Roosevelt pressed Congress to declare the holiday on the fourth Thursday in November.
But still, not all were in agreement. Reportedly, Republicans were incensed by the idea of switching the holiday's date and refused to participate. So, for a while, there were two different holidays, Republican Thanksgiving on November 30 and "Franksgiving" or "Democrat Thanksgiving" on November 23.
Speaking of the day after, since the 1930's, the day after Thanksgiving is referred to as Black Friday. It signals the emphatic start to the Christmas shopping season, and with many retailers doing 20-30 percent of their total annual sales just that weekend. By the way, it's named Black Friday because stores and retailers hope that big day will propel their year-to-date balance sheet out of the red and into the black (profitable.)
Most Americans also watch at least one Thanksgiving Day parade.The first turkey day parade took place in 1920 when Gimbel's department store in Philadelphia threw a parade with 50 people – including Santa Claus at the end.
The Macy's Thanksgiving Day Parade started in 1924 and is the nation's largest (now the IKEA Thanksgiving Day Parade,) with 3 million people watching live and 44 million viewing it on TV.
When Yale played rival Princeton in 1876, the tradition of Thanksgiving Day football was born.
Starting in 1920, the National Football League embraced the tradition of playing games on the national holiday, too. The Dallas Cowboys and Detroit Lions always host a game, and since 2006 there is another game with various opponents to be named before the season.
Why do the Lions and Cowboys always play? Back in 1934, the Lions volunteered when they heard the idea of playing a Thanksgiving Day game, hoping to boost attendance and interest in the struggling franchise. The Dallas Cowboys did the same in 1966 and though they were already a successful team in years past, thought it would be a great way to spark a young coach named Tom Landry who was struggling that season.
While Thanksgiving is all about gratitude, but the meal sure is the highlight! Here are some more quick facts about Thanksgiving dinner:
91 percent of people eat turkey on Thanksgiving, consuming a total of 46 million turkeys.
In fact, the average Thanksgiving bird weighs 16 lbs and contain 70% white meat and 30 % dark meat.
If you have a strong preference for one or the other, it's because white meat and dark meat are very different. Dark meat has about twice the fat of white meat and contains saturated fat, while white meat is leaner and has only about 45 calories per serving. But dark meat also is high in certain vitamins and minerals, like B6, B12, iron and zinc.
We eat 768 million pounds of cranberries every year, and 26 percent of that is on Thanksgiving.
Did you know that cranberries are one of only three fruits native to America? The original Native Americans didn't eat them but used them to dye clothes and treat arrow wounds.
50 percent of Americans put their stuffing inside of their turkey.
TV dinners actually originated because of a Thanksgiving Day mishap. In 1953, someone at Swanson's misjudged the number of frozen turkeys they needed for the holidays, acquiring an extra 26 tons! Instead of losing the extra meat (and money) they had the bright idea to slice up the turkey, add some side dishes, repackage it as a frozen dinner in foil packaging, and start marketing it to people who wanted to eat easy meals in front of their televisions.
Are you sleepy after eating turkey? Many people blame that to tryptophan, a chemical contained in turkey. But chickens have far higher levels of tryptophan and don't make you sleep. So why are you so sleep after Thanksgiving? Because you ate way too much!
According to Roto-Rooter, the day after Thanksgiving is the busiest day of the year for plumbers! 'Nuff said!
But most importantly, Thanksgiving is a day to get together with family and friends. In fact, Thanksgiving Day is the most popular travel day of the entire year, with
40 million Americans traveling at least 50 miles to get home for turkey dinner.
Enjoy your Thanksgiving!