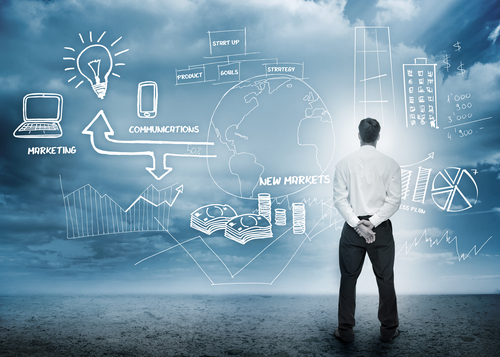 According to recent data, there are 2 million real estate licenses issued throughout the United States. Of course, not all of those licensees may be actively selling real estate, but no matter how you slice it, that's a lot of home sales professional –
In fact, there were roughly 5.5 million residential home sales in 2017, which comes to only 2.75 transactions per real estate licensee. Needless to say, there's A LOT of competition among Realtors!
But the good news is that there's a huge potential for earnings in real estate, too. In fact, closing an additional one, two, five, or even ten deals this year could mean that you have the most lucrative year of your career!
And with more people than every migrating online and to social media use, an effective online marketing campaign (combined with a whole lot of commitment and hard work) is more important than ever.
To help you shape the best online marketing plan possible, here is some data about online Realtor marketing. Look for part two of this report, where we cover the consumer online and social media use as it pertains to buying or selling a home.
We hope that this information helps you make it a great 2018!
Social media use:
What kinds of content should Realtors post on social media? As a general rule, stick to the 80/20 rule – posting 80% general content but no more than 20% targeted advertisements and sales messages.
When it comes to social media use to get business, female Realtors are leading the way. In fact, 74% of female real estate agents use social media professionally, compared to only 67% of male Realtors.
Which social media platforms are Realtors using professionally? According to surveys, Facebook leads the way with 80% of respondents active on that social site, followed by LinkedIn (29%), Twitter (28%), Google+ (32%), YouTube (12%), and Pinterest (21%).
Interestingly, there is no data (yet!) on Instagram use among Realtors, but smart real estate salespeople better get on board with the social media account designed around image and video sharing.
That's because Instagram is by far the most popular social media platform among Millennials, who make up about 35% of the home buying market now – officially the largest buyer segment of any demographic – and will continue to grow. (Baby Boomers are second at approximately 29%.)
The typical Realtor spends only 5 hours or less every month on their website and social media marketing.
Compared to other, Real estate pros have:
10% more Facebook accounts
20% less Twitter accounts
5% more YouTube channels
Blogging and creating content:
Numerous studies point to the fact that consumers are looking for authentic voices to educate, inform, and guide them through their real estate decisions. In fact, 76% of consumers believe the content that average people share is more honest than paid advertising from brands.
For that reason, 78% of real estate agents who currently update a blog regularly acquired at least one client from that blog last year, and 90% of U.S. consumers say that mortgage and real estate blogs are useful.
Data reveals that Realtors who blog and post written content regularly see 55% more visitors to their site and get 4.5x more leads than Realtors who don't.
Realtors who are 29 years old and younger are most likely to maintain a real estate blog, with 17% doing so. That demographic is also most likely to plan on starting a blog in the future.
One of the most popular blog topics among all real estate websites is neighborhood and community profiles, which perform remarkably well with search engines like Google.
Email marketing:
Email marketing is crucial for Realtor marketing plans, as well. Email is the best way to elevate general marketing on social media to more focused and personal one-on-one conversations with your audience.
In fact, studies show that a client a real estate agents gain through email is 6x more valuable over their lifespan than one gained through social media!
Email marketing for Realtors yields an average 174% total conversion rate (compared to just 50% for other marketing) and boasts a 3,800 ROI – bringing in $38 for every $1 spent.
Websites: 
Do you have your own personal website? Or do you rely on a semi-customized agent page or website provided by your company? There are merits to both, and no one "right" answer, as long as your website provides the essentials for client acquisition.
In fact, only 72% of agents have their own website, and they spend a median annual cost of $761 to build and maintain their site.
28% of Realtors either use a company website, or a very small percentage have no website.
Where do website leads come from online?
22% Company website
15% Personal website
10% Social media
According to research, company websites do offer more leads than personal sites or just social media pages.
However, that doesn't account for the quality of those leads, the ability to form deeper connections and lasting relationships with those leads,
Nor does it factor in the addition of a great and frequently-updated blog or other social media integration on a personal website
72% of real estate agents surveyed said that they are still unsatisfied with the number of leads their website generates.
Room for improvement:
But there is still a lot of room for improvement when it comes to Realtors tapping their social media marketing potential.
Despite the high number of Realtors who do have social media accounts, there is still a blurred line between personal and professional use, and many real estate salespeople aren't well versed in social media marketing.
Consumers are searching for and viewing videos more than ever. However, only 15% of real estate professionals are using videos for marketing, and only 5% are active on YouTube.
In fact, only 55% of Realtors say that they're "comfortable" using social media, while 10% are "uncomfortable" and 9% don't use it at all.
In fact, the real estate industry ranks lowest in social media engagement of any major industry, with an average of only 0.45 interactions per week on social media.
Only 9% of real estate agents advertise their listings on social media.
Only 43% of real estate agents use social media for prospecting, and only 64% – or two out of every three – use social media for marketing.
According to industry studies, these lead sources are more important than ever for Realtors in 2018:
Social media +83%
Blogging +78%
SEO (Search Engine Optimization through optimized content) +85%
Video +81%
Email Marketing +79%
Compared to these, which are fading in importance:
Trade shows 22%
Traditional advertising 4%
Direct Mail 16%
Telemarketing 6%