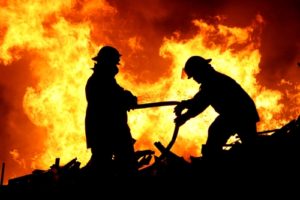 Northern California is ablaze, and October's wildfires have brought a dangerous reality too close to home.
So far, dozens of people have lost their lives, with hundreds missing. Several hundred more have been treated for burns, smoke inhalation, and other medical injuries. More than 170,000 acres have been destroyed across eight counties, with 3,500 structures and family homes reduced to ash. Already, this fire ranks as one of the top destructive fires in recorded California history.
Here are 25 facts about wildfires in the United States:
Tens of thousands of people have been ordered to evacuate so far, and countless others are on stand by to flee their homes.
Up to 90 percent of all wild fires in the U.S. are caused by people!
The top causes for forest fires include campfires left burning or unattended, unsafe burning of debris, throwing cigarettes or cigarette butts outside, sparks from train exhaust, or intentional acts of arson.
Furthermore, 10% of all wildfires are started by lightning. It's estimated that lightning strikes hit the earth an astounding 100 times each second, or 100,000 times a day, and up to 20% of all lightning strikes have the potential to start a fire.
Meteor strikes and lava also have the ability to start wild fires.
Although the numbers are obviously rising due to the recent California fires, so far in 2017 there were 50,283 wildfires burning 8.5 million acres according to the National Interagency Fire Center.
That already outpaces 2016's totals, when 46,618 fires were reported, spreading to 5.5 million acres.
Well before these recent NorCal fires, the Verisk 2017 Wildfire Risk Analysis estimated that 4.5 million homes were at high or extreme risk of being affected by wildfires in the U.S. In that same report, 2 million California homes were identified as being at high or extreme risk.
Backing that data up, the NIFC named California the #1 wild fire-prone state in the nation for 2017, with well over $2 billion worth of fire damage potential and 15% of all households in our state at high or extreme risk!
The economic toll from wildfires is staggering, as well. Over the past decade, wildfires are responsible for $5.1 billion in losses.
While 2017 still might surpass it, 2015 was the worst year on record for wildfires in the United States with 68,151 wildfires burning about 11 million acres. For comparison, that's about the size of Massachusetts and Vermont COMBINED!
To put that flame-engulfed 2015 in perspective, during the same period in 2014, 63,417 fires burned 3.6 million acres. The previous record was set in 2006 at 9,873,745 acres.
Over the course of the last one hundred years, an average of 1.2 million acres burn in uncontained or forest fires annually in the U.S. But the prevalence and severity of wildfires have grown exponentially worse in the last decade and a half because of draughts, climate change and population increases.
In fact, since the NIFC started tracking data in 1960, there have been only eight occasions when at least 8 million acres burned in the United States; 2004, 2005, 2006, 2007, 2011, 2012, 2015, and already in 2017.
According to NIFC data, these are the 10 most costly fires in modern U.S. history:
October 1991 – Oakland Hills Fire, California: $2.7 billion in losses (today's dollars).
October 2007 – Witch Fire, San Diego County, California: $1.48 billion.
October-November 2003 – Cedar Fire, California: $1.36 billion.
October 2003 – Old Fire, California: $1.25 billion.
November 2016 – Great Smokey Mountains Fire, Tennesse: $938 million.
September 2015 – Valley Fire, California: $933 million.
November 1993 – Topanga Fire, California: $578 million.
September 2011 – Bastrop County Complex Fire, Texas: $572 million.
October 1993 – Laguna Canyon Fire, California: $540 million.
June 2012 – Waldo Canyon Fire, California: $477 million.
Whenever these huge blazes occur, our national Forest Service spends $100 million per week fighting fires, eating up a significant portion of their total annual budget.
It's worth noting the thousands of braves volunteers, fire fighters, and professionals from the Forest Service that fight these fires to keep us safe, often making the ultimate sacrifice.
In fact, according to the U.S Fire Administration, firefighter Wildland fatalities over the last ten years are as follows:
2006: 22
2007: 11
2008: 26
2009: 16
2010: 11
2011: 10
2012: 15
2013: 31
2014: 10
2015: 13
2016: 15
The most catastrophic year on record for firefighters battling wild blazes was 1910 when 84 brave men lost their lives.
Temperatures in the center of these huge blazed can reach up to 50,000 degrees Fahrenheit – five times hotter than the surface of the sun!
The worst wildfire in U.S. history is referred to as The Great Fires of 1871. During the week of October 8-14 that year, four of the worst fires in the history of the nation all blazed at the same time in the Upper Midwest.
That historic blaze included the Great Chicago Fire, which destroyed or damaged a third of the city's buildings and homes, leaving 100,000 residents homeless.
But even worse that week was The Great Peshtigo Fire in nearby Wisconsin that ended up killing 1,500 people, making it the most fatal fire in U.S. history.
The greatest fire in our nation's history by area burned took place in 1910. Called the "Big Burn" or the Great Fire of 1910, the inferno burned 3 million acres across Idaho, Montana, and Washington. In response to that fire, the U.S. Forest Service was formed, with the mission to fight all wildfires.
As the fires still burn in Northern California, our thoughts and prayers for safety go out to everyone affected. If anyone has further information or needs help, please contact us.